4th Front Range Advanced Magnetics Symposium
Saturday August 25, 2018 UCCS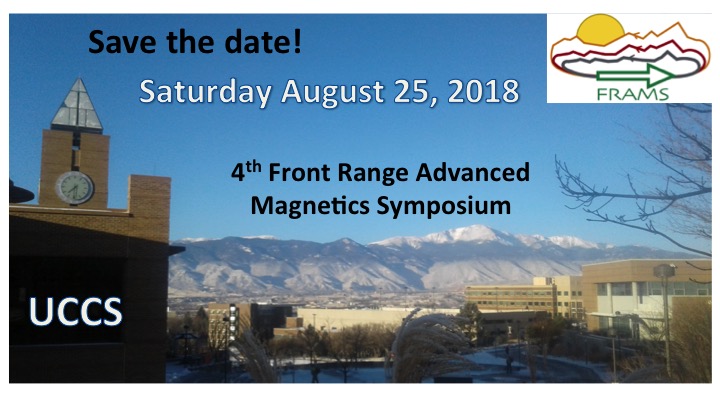 We hope to see you at the University of Colorado - Colorado Springs for the 4th FRAMS! This single-session, one-day symposium will feature talks and poster sessions. The tradition has been for students to deliver posters and other researchers to give talks. As with the previous 3 symposia in this series, the registration will be free! Breakfast, lunch and dinner are provided. Please contact klivesey@uccs.edu with any questions.
A tentative schedule for FRAMS 2018 (revised on Wednesday August 22) can be found here. Registration and breakfast starts at 8:15am. Talks will be 14 minutes long with 4 minutes afterwards for questions. The time limit for talks will be strictly adhered to, in order to allow plenty of time for discussions. Posters will be split into two sessions: - All odd-numbered posters will be presented and judged in the morning. - All even-numbered posters will be judged in the afternoon. However, presenters are encouraged to have their posters hanging all day. Posters may be hung up during registration/breakfast. Cork boards measure approximately 3 ft x 4 ft but there is no restriction on poster size. Poster prizes worth $200 each will be given directly to students by Princeton Instruments. The Best Poster Awards went to: ​​Alexandra Stuart, UCCS Aaron Wang, UW Jinjun Ding, CSU Shane Allen, DU Gavin Hester, CSU
Map of conference location at UCCS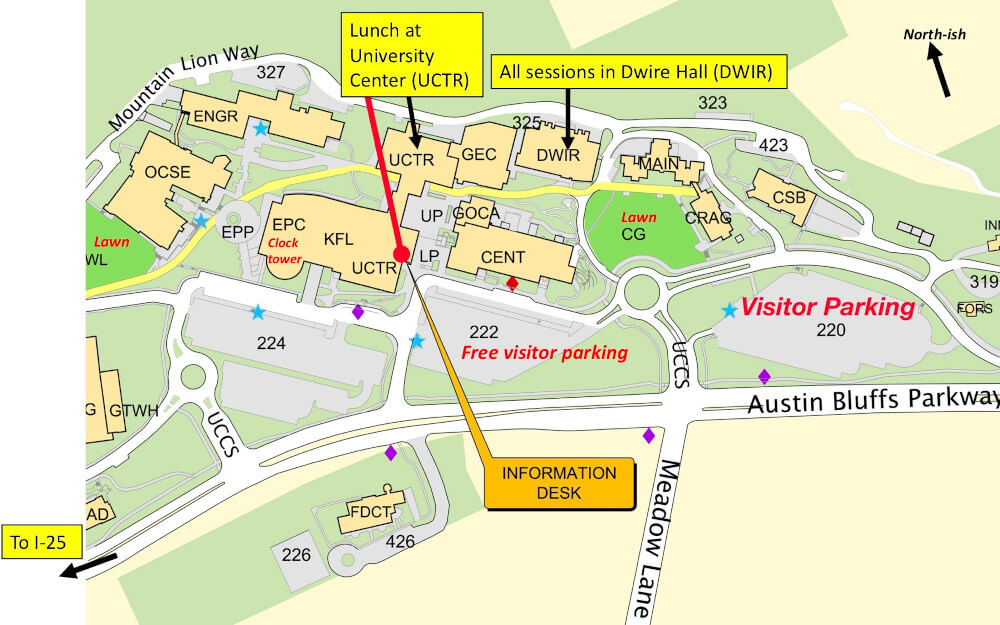 Take Interstate 25's exit 146 (Garden of the Gods Rd) east. This road becomes Austin Bluffs Parkway.
The university's main campus is on top of the hill at 1420 Austin Bluffs Parkway.
The entrance at Meadow Lane is closest to the conference venue. Parking is free in all lots on Saturdays.
All sessions are in Dwire Hall (look for the large glass facade). Lunch and dinner will be in University Center.
College of Letters, Arts and Sciences,
UCCS Office of Academic Affairs, U
CCS Magnetic North
V Administrative support from Kristen Petersen, UCCS Biofrontiers Center
2019 5th FRAMS, TBA, University of Colorado at Boulder & NIST
2017 3rd FRAMS, August 30, University of Denver
2016 2nd FRAMS, August 18-19, University of Wyoming
2015 1st FRAMS, September 22, Colorado State University